Level 3's and 4's have an awesome 2017 State Championships!
Flight School Gymnastics finished with 19 Golds, 13 Silvers and 12 bronze Medals. Congratulations to our 4 State All Around Champions: Level 3 Sidney Weinbaum, Level 4s Colleen Elliott, Presley Ryan and Hannah Franks! Level 4s earned a huge 2nd Place team!
Congratulations to all the competitors!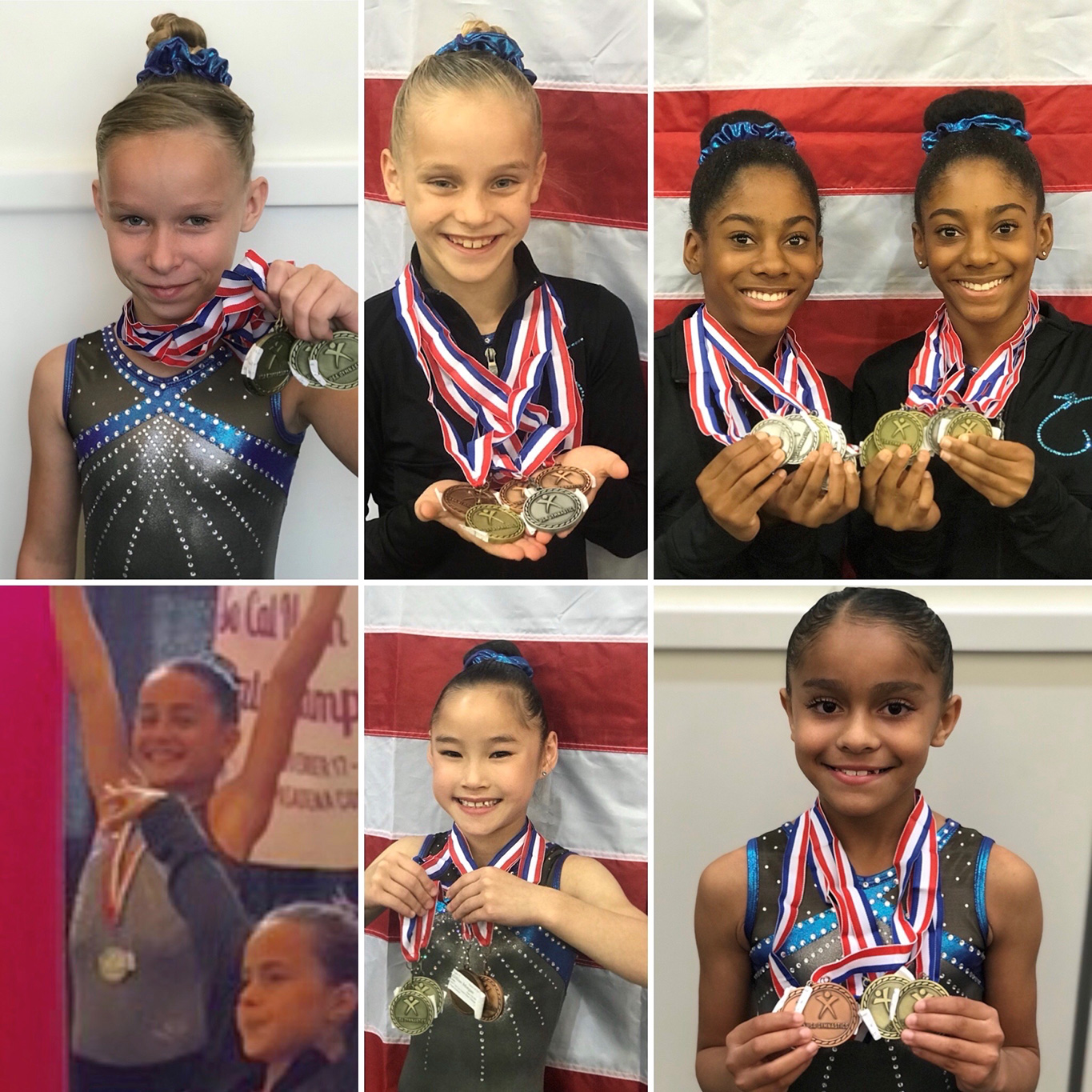 GYMNAST
TEAM
SESS
LVL
DIV
VAULT
BARS
BEAM
FLOOR
ALL AROUND

Colleen Elliott

Flight School

SU1

4

Ch 10A

9.600

1

9.475

3

9.800

1

9.750

1

38.625

1

Sullivan Resich

Flight School

SA4

3

Ch 8C

9.750

2

9.525

3

9.325

7T

9.800

2*

38.400

2T

Lila Buck

Flight School

SA4

3

Ch 8C

9.850

1

9.450

6T

9.425

6

9.625

8

38.350

4T

Presley Ryan

Flight School

SU2

4

Ch 8B

9.500

2

9.550

3T

9.550

5

9.725

3T

38.325

1

Hannah Franks

Flight School

SU1

4

Jr. 12B

9.650

1

9.600

1

9.325

2

9.725

1

38.300

1

Jasmine Saul

Flight School

SA2

3

Ch 7B

9.500

7T

9.400

4T

9.650

1

9.725

1T

38.275

2

Sidney Weinbaum

Flight School

SA2

3

Ch 7C

9.700

1T

9.450

3

9.450

2T

9.650

2T

38.250

1

Hailey Franks

Flight School

SU1

4

Jr. 12B

9.600

2

9.325

2T

9.700

1

9.625

2

38.250

2

Gillian Morgan

Flight School

SU2

4

Ch 8A

8.850

12

9.700

1T

9.725

3

9.775

1T

38.050

3

Marley Elliott

Flight School

SA3

3

Ch 8A

9.625

4T

9.500

6T

9.300

8

9.550

8T

37.975

6T

Kaila Natividad

Flight School

SU1

4

Ch 10B

9.475

1

9.175

7T

9.650

3

9.625

4

37.925

3

Shaina Bishop

Flight School

SA2

3

Ch 7A

9.650

3

9.600

3

9.050

10T

9.600

4

37.900

2

Hannah Schneider

Flight School

SA1

3

Ch 9D

9.600

1

9.375

6T

9.400

4

9.400

4T

37.775

3

Chloe Castle

Flight School

SA2

3

Ch 7A

9.425

7T

9.425

5T

9.175

7T

9.125

15

37.150

8